The market for Cantonese textbooks is tragically small, and it's unfortunate how much effort it takes to find resources that are both user-friendly and actually effective!
The Cantonese in Communication series is one of the few good ones. Fortunately, it is also one of the cheapest. Currently, it's under $10 USD for each of the 3 textbooks, which are ebooks on Google Books.
How to buy the book on Google Play
Open your Google Play Store app, and find the "Books" section. Or go to play.google.com/store/books.
Search for the Chinese name of the book series, which is 邊學邊用 : 粵語聽說教材.
Buy and download the book(s) you want, and you're ready to go!
As far as I can tell, the ebooks for this series are only available on Google Play (except for the first volume ebook, which is also available on Amazon). The books are advertised under their Chinese title, not the English title, so you'll want to type or copy the Chinese name.
I've included links to the books (and the mp3 audio files) at the end of this article.
If you're not sure whether you really want an ebook, you can download a sample of the books for free, or you can rent Book 1 for 24 hours for only $1.95 on Google Books.
What about the paperback version?
If someone asks me which is better, I'll always recommend a paperback over an ebook. But to be honest, I'm not able to follow my preferences most of the time.
I'm in Hong Kong, where storage space is extremely limited, and so nearly all my books are ebooks, because of physical necessity.
Another reason is that I've gotten used to studying on a screen, and I can make it work. There's a big part of me that still feels it's ideal to study with paperback books and a pencil–with your smartphone turned off and in another room! But realistically…where would I be without Pleco (which is only available as a smartphone app?) So, I've abandoned my ideal, and all I can say now is that I prefer to study primarily on a desktop rather than primarily on a smartphone, because there are relatively fewer distractions when I'm staring at a computer screen rather than a smartphone screen. Not ideal, but we're stuck in modernity.
But the main reason I can't urge you to get the paperback is that it's just extremely difficult to find. Unless you're taking the relevant course at the Chinese University of Hong Kong, you most likely cannot even buy the textbook at the CUHK bookstore. I'll update this post if I'm wrong, but I don't believe it's available at any brick-and-mortar bookstore or library outside of CUHK.
But really, what about the paperback version?
You can try a Google search, and you may or may not find the edition you want at an e-commerce site like Taiwan's shopee.tw. (It's currently $20 USD plus shipping, but only Book 3 is available there at the time of this writing).
You can contact me at cantonesecoach@gmail.com, to see if I've got access to a copy. Otherwise, I don't know what to tell you.
As an aside–most people blame the lack of resources on a lack of demand for Cantonese. But I blame the supply side. With the enormous amount of work that goes into creating these textbooks, there should be more copies available in more venues, shouldn't there?
What if I don't know Yale romanization?
This series uses Yale romanization (others use Jyutping or Guangdong romanization). If you are already using Jyutping, it may seem like a non-starter to have to switch to Yale. But it's pretty common for any learner of Cantonese to become familiar with multiple romanizations. It takes a little effort to not mix them up–but not as much effort as you might think.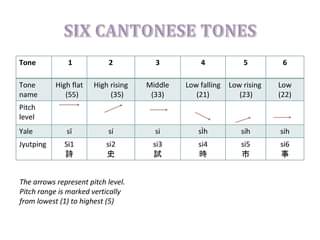 Yale also normally uses tone marks rather than tone numbers for the 6 tones. If you've gotten accustomed to using tone numbers, don't worry–it shouldn't take long to memorize which tone marks go with which number.
The Chinese University of Hong Kong, located in the lovely Sha Tin region of the city, uses Yale romanization in all its books and classes for non-Chinese speakers. (They use Guangdong romanization for speakers of Mandarin and other Chinese languages.) The CUHK Chinese Language Centre has produced many fluent Cantonese speakers and life-long learners, and odds are that any materials you see using Yale romanization were produced at CUHK, or by someone who studied there.
But in recent years, it seems like the majority of Cantonese learning resources use Jyutping. So while you could get by with only Jyutping, you'll miss out on some really valuable resources if you don't learn Yale.
Whether or not you know any Cantonese romanizations, you should take some time to learn Yale while starting these books. You can learn it while reading along with the audio recordings of the vocabulary lists and the dialogues (the mp3 audio files for all 3 books are hyperlinked at the end of this article).
If you're new to romanization, then note that it will take time and patience to distinguish syllables within multisyllabic words.
Also, I can't overemphasize how useful Pleco is as an aid for learning Cantonese characters, romanization, pronunciation, etc.
And if you're completely new to Cantonese, then studying a romanization (whether it's Yale, Jyutping, etc) will also be your first step in learning how to stretch your mouth muscles and to combine sounds in totally new ways. Don't blindly jump into texts, or else you will probably give up because you've been drowned in an ocean of letters that look like English, but aren't.
The textbook
Basically, what you have here is a very straightforward classroom textbook series, with no big-name endorsements or fun illustrations. But, if you do the work, then it actually works.
You will probably find that it works better to move steadily through the lessons and review them later, rather than to try to understand absolutely everything in a lesson before moving on.
The most important thing it offers is conversational texts written in conversational Cantonese, along with romanization. For many learners (most? almost all of us?), this is the simple piece of the puzzle that is so hard to find. The written form of spoken Cantonese is rarely found in any media (except for certain kinds of advertisements, and some very hardworking YouTube channels). Finding that all-too-rare Cantonese text, combined with a standard romanization, feels like finding the Holy Grail of Cantonese language learning.
One thing to keep in mind is that these books were designed by native speakers with many years of experience teaching foreigners. So that means they know what they're talking about. But it also means that English is not their first language. There are some minor punctuation issues, and sometimes the English grammar explanations don't use native-sounding English. I found that occasionally I had to read an English sentence twice to understand the meaning.
One drawback of this series is that not every romanization is accompanied by the accompanying Chinese character(s). But all the vocabulary is also in an appendix at the back of the book. (Or you can search for a word in your Pleco dictionaries, by setting the search bar to CAN for Cantonese, and typing the romanization.)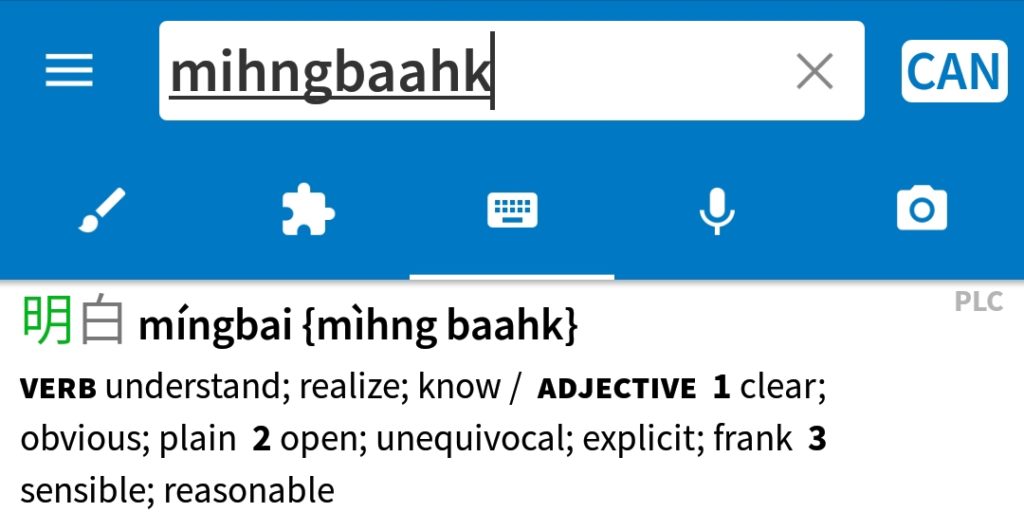 Another challenge with these textbooks (but not necessarily a drawback) is that there is no translation for the dialogue texts. This will force you to figure out the meaning by yourself. Studying the vocabulary lists first will help, but if you really get stuck, you'll have to ask a tutor, or use HiNative, or just move on and figure it out later.
Legos before launchpads
One quick note, before wrapping up. As with practically any textbook for any language, you're not learning all the vocabulary and sentence structures that your native-speaking friends will use in conversation. And that's because language learning textbooks are for learners, not for native speakers. You have to be able to figure out how Legos work, before you can study rocket science.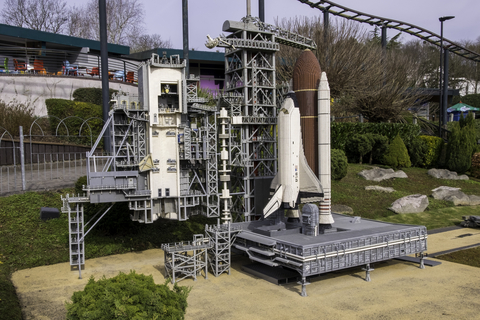 This is what native Cantonese speakers do, too, by the way–not only in primary school, but even before they officially start their formal education by age 3. We all have to learn the basics of our childhood language(s) with much simpler vocabulary and structures, and can't even remember how long, messy, and repetitive the process was, before we could have anything like what we adults consider a "natural" native conversation.
All that to say…don't let naysayers keep you from the benefits of a good textbook series.
TLDR;
It may not look like much, but it is well organized. And it also has audio files (which you should take the time to use!)
If you carry your passion with you, then the books in this series will carry you a long way.
RESOURCES
Cantonese in Communication: Listening and Speaking, Book 1
邊學邊用 : 粵語聽說教材(一)
Buy or rent on Google Books
Buy on Amazon Kindle
Download audio files
Cantonese in Communication: Listening and Speaking, Book 2
邊學邊用 : 粵語聽說教材(二)
Buy on Google Books
Download audio files
Cantonese in Communication: Listening and Speaking, Book 3
邊學邊用 : 粵語聽說教材(三)
Buy on Google Books
Download audio files